Feng Shui Consultant. Classically trained Feng Shui Master with more than 20 years of experience.
Have questions? Find out more about working with Aelita.
Interested in networking with Aelita? Schedule 30 minutes for a general business and networking consult.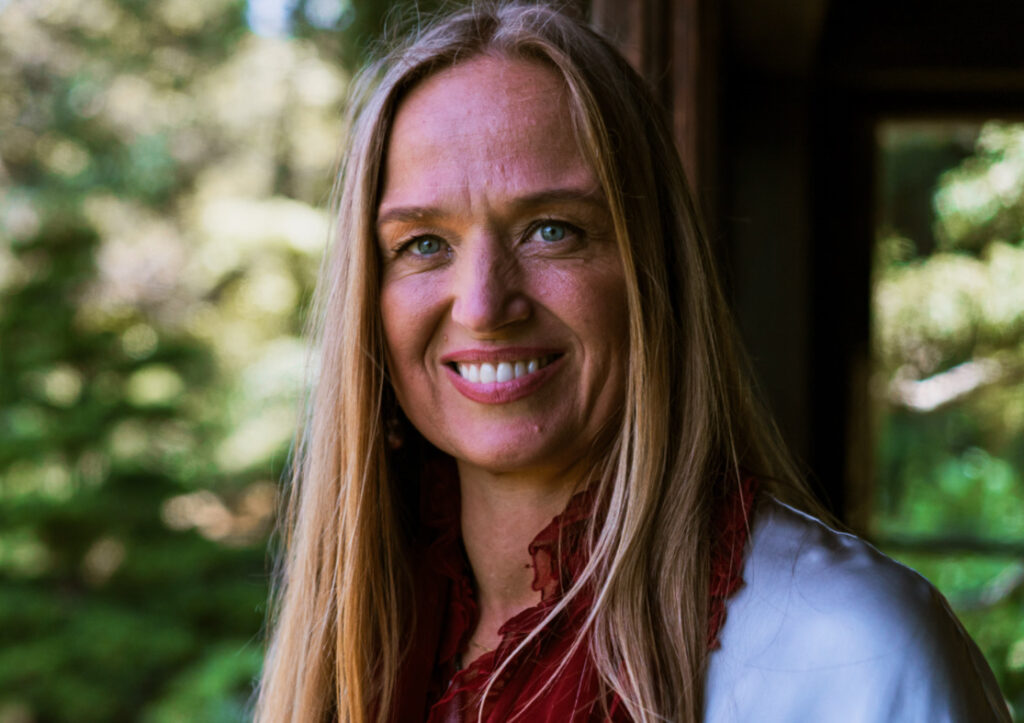 Feng Shui Consultant Aelita Leto
Aelita Leto is a classically trained Feng Shui Master. Since 1989, she has studied and worked with internationally recognized masters in architecture, exterior and interior design, the mantic arts and Feng Shui.
Three decades, her practice, based on an ancient art, has grown successfully by word of mouth. Aelita has built a consultancy that attracts private clients, public organizations and businesses.
Having completed nearly 1000 Feng Shui consultations in the US & Europe, Aelita is considered a leader in the field. Aelita apply her knowledge through mentoring and teaching the next generation of Feng Shui Consultants at Golden Gate Feng Shui School.  She regularly takes annual sabbaticals to work with renowned masters and study across Asia.
Aelita as Feng Shui Consultant provides a unique skills set to her clients. Combining academic studies in physics, mathematics, and laws, Aelita brings structure and order to an art form that is both spatial and multidimensional. 
By choosing Aelita as your Feng Shui Consultant you will gain experienced Feng shui Master with strong people skills and close personal relationships.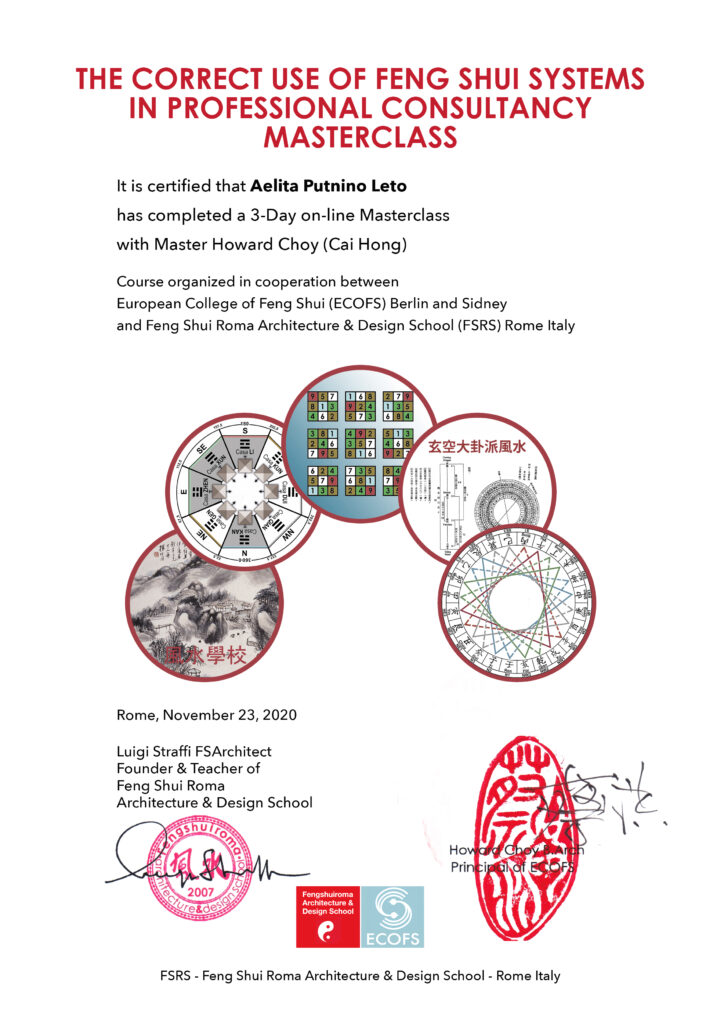 Certificates and diplomas
Golden Gate Feng Shui School Graduate, 2011
Feng Shui Tour of China with Master Howard Choy, 2015
Feng Shui Tour of China and Hong Kong with Master Jodi Brunner ( Years 2015, 2016, 2017)
Healing Apprenticeship course with Liu Ming
Mantic Arts course with Liu Ming
Chinese Astrology with Liu Ming
Almanac Astrology with Liu Ming
Polestar Astrology with Liu Ming
FSIA Feng Shui Institute of America
Teacher at Golden Gate Feng Shui School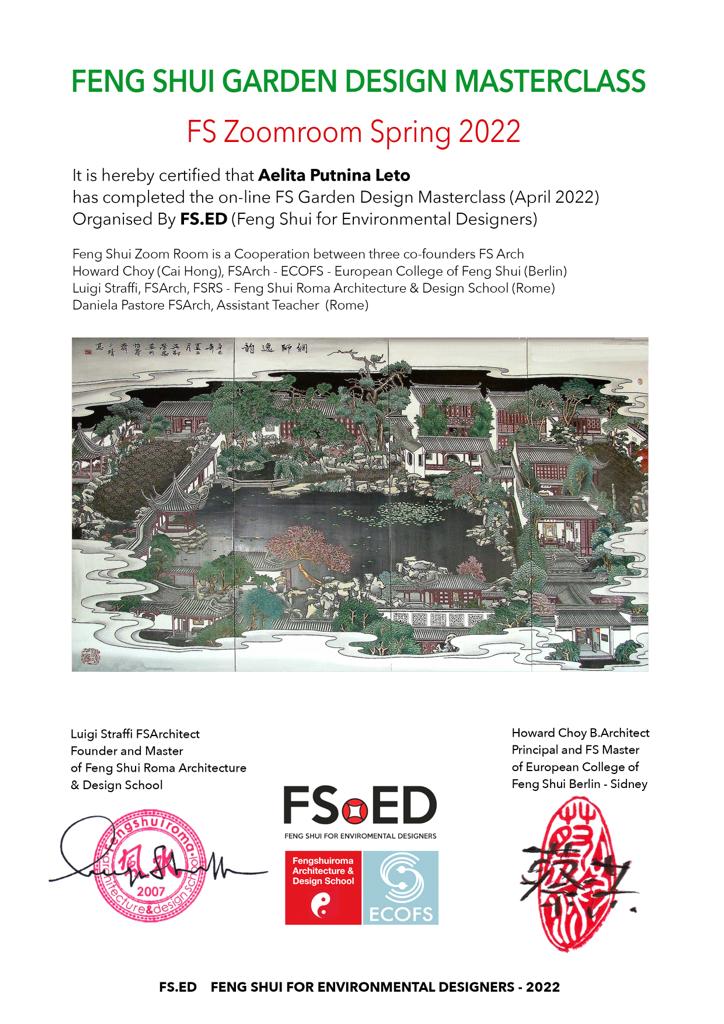 Previous IFSA USA Chapter Presentations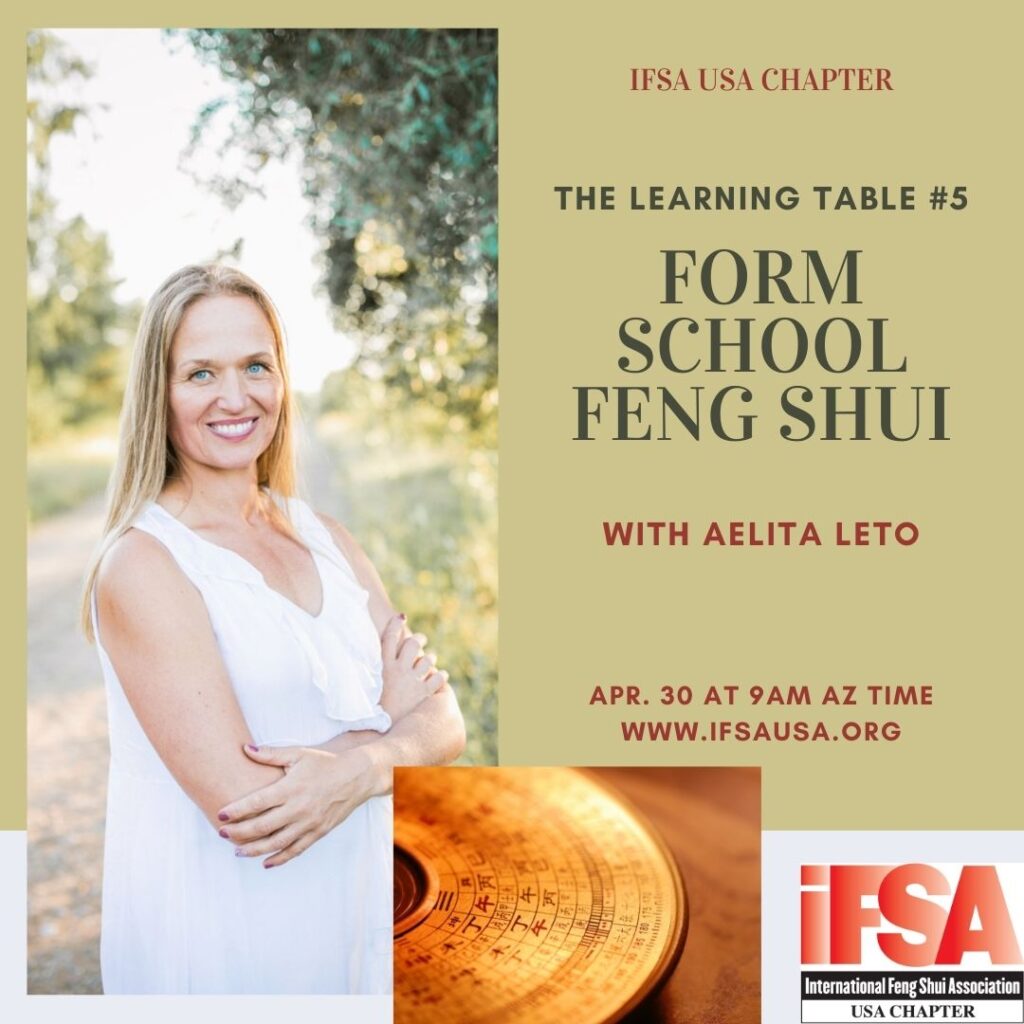 IFSA USA Chapter The Learning Table #5:
Form School Feng Shui with Aelita Leto
Aelita shared the importance of Form in Feng Shui assessment and analyses, particularly when it comes to the construction and design of external and interior spaces. Aelita also shared real life case studies.
Friday, Apr. 30, 2021 at 9 am PST / 12 pm EST
I have worked with Aelita in a number of capacities both in my business and my home. Her wisdom, knowledge and experience is extensive and the impact of her work has changed not only the success and clarity in my business, she has transformed the homes and hearts of many of my clients.
I have been working with Aelita for many years and she brings so much value to everyone she touches! I am so grateful for her work and she is so present and honest with her clients. I have referees her to many of my colleagues.
Aelita is a next level game changer ! The work she did in my first cottage changed my life (I met my husband a month after we made the transformations); and the work she did with our next house in Los Gatos was so helpful in many ways. Her passion and love of Feng Shui is so refreshing.
Let's find harmony for your environment. Book a Feng Shui Consultation.